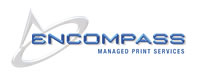 Toshiba's Encompass Analysis provides a path to maximum efficiency and profitability.
Encompass's Managed Print Services empower you to do more, with less. By effectively managing the use and allocation of your existing hardware, we can reduce or even eliminate the need to buy new equipment. You'll reap the benefits from simplified service contracts and high quality, lower consumable costs. And, we do it without disrupting your day-to-day operations.
Before we offer any services, we start with Encompass. Encompass was created to help you uncover the hidden costs associated with all of your various equipment — copiers, printers, scanners, and fax machines — and to discover cost-saving opportunities in each and every office throughout your enterprise.
A powerful, five-step analytical program, Encompass identifies inefficiencies such as redundant, underutilized and outdated equipment, overly expensive color and laser printers, and the hidden costs of outsourced support and supplies.
We provide a comprehensive blueprint creating the most effective, efficient use of new and existing equipment.
The result is a comprehensive fleet optimization analysis. A complete detailed blueprint that creates the most efficient and effective fleet of new and existing equipment, as well as in-depth strategies for managing your systems with maximum flexibility and productivity. All at minimal cost - giving you maximum control over your entire document workflow.