Managed Print Services Target Print Cost
Adding Expertise to Product Solutions
Toshiba believes that cutting-edge products are only one component of a complete document output strategy. Full optimization requires long-term support services that address fleet efficiency on a number of levels. To that end, Toshiba has developed Toshiba Financial Services and the breakthrough programs Print Management Solutions and Encompass as the premier resources for helping customers meet and exceed their document objectives.
The Power to Consolidate, Simplify, and Optimize
Document production, management, and distribution currently represent a significant expense for businesses, with expenditures reaching as high as 15% of total revenues in some instances. Encompass, based on the highly disciplined Six Sigma process, helps customers reduce costs and improve the productivity of their document imaging fleet using device management strategies that minimize the need for new equipment and reduce costs by as much 40%.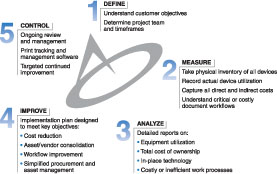 Managed Print Services
Two unique programs that help reduce overall printing costs and service needs are Page Smart and Print Smart. Each program creates a single point of accountability for service, supplies, and billing, giving participants increased control over printer operations. In turn, these benefits free up IT staff to focus on other important issues.
Toshiba Financial Services—The Right Business Partner
Toshiba provides not only the finest document management products but also fully personalized options for acquiring them through Toshiba Financial Services. This service offers you an array of comprehensive lease program options that range from conventional leases to cost-per-page programs, each designed to reduce the total cost of equipment ownership. Each of these programs eliminates the surprises and hassles typically associated with leasing. Our simplified billing provides you with custom-tailored invoices and a number of flexible payment options.
For more information regarding Toshiba's National Account program, please click here to contact a representative.